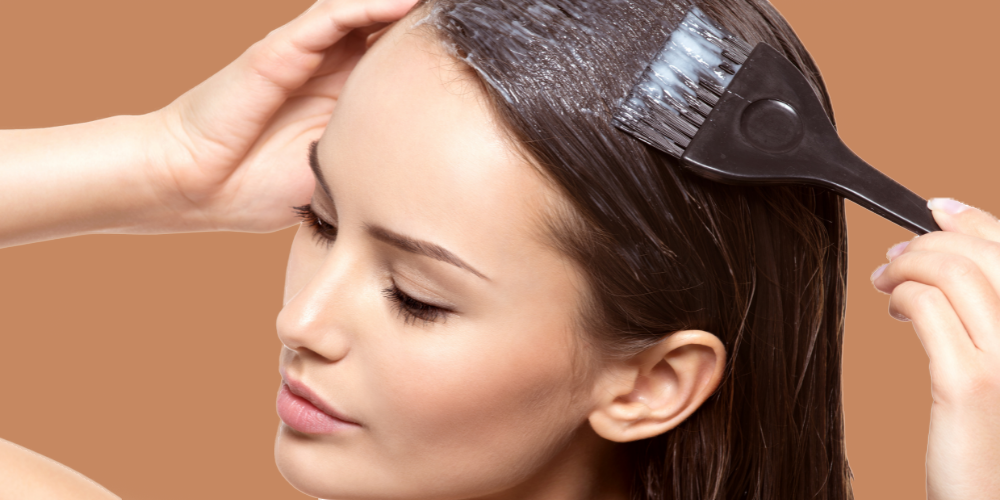 hair care
Can I Use Argan Oil on Colored & Styled Hair?
By Staff Account Posted on
Coloring your hair is a fun way to change up your look and add some personality to your locks, whether it's a new bright hair color, bleaching, highlights, or balayage. 
Dying your hair can cause short and long-term damage, especially if done incorrectly. Colored hair also involves some level of maintenance, which may seem like a chore, but, thanks to our Argan Oil you no longer have to choose between "colored hair" or "healthy hair". 
Argan oil is one of the most valuable oils on Earth because of its incredible conditioning and softening properties. Its silky, non-greasy formula makes it perfect for hair maintenance. For generations, native Moroccans have pressed the nuts of the Argania Spinosa trees into this precious oil, to use for well-nourished hair and body. 
Before understanding how argan oil can be beneficial for your colored hair, let's first dive into what happens to your hair when it is treated with hair dye.
What Happens to Hair When it is Colored?
Depending on what type of hair coloring process you take, your hair could potentially suffer some consequences. 
The overall main issue with hair coloring is that most of the time, the process requires the use of oxidative dyes. These dyes put stress on the hair, causing damage. If done frequently or incorrectly, your hair ultimately suffers. 
While there are a handful of dyes that are safe, there are some that contain potentially harmful chemicals. There are two main chemicals in permanent hair dye that affect the health of your hair — ammonia and peroxide. 
The ammonia found in many hair dyes changes the hair's pH, lifts up the cuticle (outer layer) of your hair, and the color can then enter into the cortex (inner layer) of your hair. When all is said and done, ammonia makes hair dry and sensitive to additional damage. Peroxide, which is typically used to lighten hair color, can break and strip down the natural color in your hair. This affects the body and flexibility of your hair.
If you color your hair often, without proper maintenance, your hair can become extremely dry and prone to frizz and split ends. Additionally, if your hair is colored incorrectly, it could cause allergic reactions. 
It is also important to keep in mind that hair dye does not just affect your hair, but your scalp as well. Oil glands, which provide the hair with the necessary nutrients needed for hair growth, health, and vitality, are found in the hair root. The chemicals in the hair dye can add extra stress to those needed oil glands.
Regardless of what type of hair color treatment you do, hair care is important when it comes to keeping your hair healthy and making your color last. 
Using Argan Oil for Hair Care Maintenance
Coloring your hair can be expensive and time-consuming, so of course, you want to make sure the color lasts and your hair looks its best. However, maintaining your hair doesn't need to be a chore. 
Argan oil is basically the fountain of youth for your hair. While color treating your hair may put some wear and tear on your locks, this wonder-worker revitalizes and rejuvenates them. 
Our Argan Oil is the ideal one-and-done product you should be using for your hair. The benefits of using it are endless— it moisturizes your hair, prevents heat and UV damage, prevents your hair from getting frizzy, and maintains the pigments in your hair. Using this miracle oil on your hair is one of the easiest ways to strengthen and refresh your new look. This is all thanks to the vitamins and minerals in argan oil.
Argan oil is rich in fatty acids and Vitamin E. The fatty acids, specifically linoleic and oleic, hydrate the cuticle layer of hair, adding moisture to potentially dried out, treated hair. Vitamin E repairs the cortex layer. This nourishes and strengthens weakened and brittle hair, giving you a revitalized texture.
The minerals in argan oil (calcium, magnesium, zinc, iron, vitamin c, and vitamin b) penetrate the scalp, giving your roots the necessary nutrients they need. This promotes healthy hair, as well as hair growth. 
One treatment alone can restore your hair's luster and decrease frizz, giving your hair a super silky feel. Pretty amazing, right? 
What makes it even better and more convenient is that you can use argan before and after color treatments, ensuring your hair stays healthy and youthful. 
Before Hair Coloring Process
Moisturized hair takes color best when you're ready to make the change. Dyed hair needs specific maintenance for color and tint preservation and using argan oil before you dye your hair can strengthen and prep your hair. Easily add moisture and prevent further damage from hair dye by using argan oil as a pre-treatment.
How to Use Argan Oil Before Hair Coloring Process
Massage a few drops of argan oil into your scalp in a circular motion 30 minutes before you take a shower.

Comb it through from scalp to tip.

Rinse out with shampoo/conditioner.
After Hair Coloring Process
Your aftercare can include argan oil, too. Keeping your hair moisturized can help protect your new color from fading. Easily preserve your hair color and make it last longer by using argan oil as a deep conditioner or a leave-in conditioner (just make sure you wait the proper amount of time before washing your hair and using this mask). 
How To Use Argan Oil After Hair Coloring Process - Deep Conditioner
Place the conditioner of choice in your hand and add 2-3 drops of argan oil.

Mix them together with your hands.

Condition as usual.

Let sit for 3 to 5 minutes.

Rinse.
How to Use Argan Oil After Hair Coloring Process - Leave-in Conditioner
Warm one drop of oil in the palm of your hands.

Comb it through with fingers to the tips of your hair.

Add one drop to your fingertips and massage it into your scalp.
This mask can easily help rejuvenate your hair and return it to a super silky feel. Additionally, if you use argan oil as a serum daily, it can help maintain the pigment and keep your hair smooth days after your salon treatment. 
How to Use Argan Oil as a Serum
Apply a few drops to the palm of your hands.

Comb through with fingers through wet hair before blow-drying.

Once hair is dry, put one drop in hand and comb through with fingers.
Where To Buy Argan Oil for Hair?
Just because there's "argan oil" on the label, doesn't mean that it's good quality or high potency. In fact, many hair care companies lead you to believe that you're buying pure argan oil, when really their product is filled with silicones, water, and preservatives, then they add a dash of argan oil for marketing. That's why we sell 100% pure Moroccan Argan Oil, sourced ethically and responsibly from Morocco.
Our argan oil is an incredible tool for maintaining strong, soft, frizz-free color-treated hair. Whether you're wanting to prep your hair for or manage after styling, you can count on Argan to get the job done. If you're looking to pick up your own bottle of argan oil, you can check out our argan oil here!
Share this