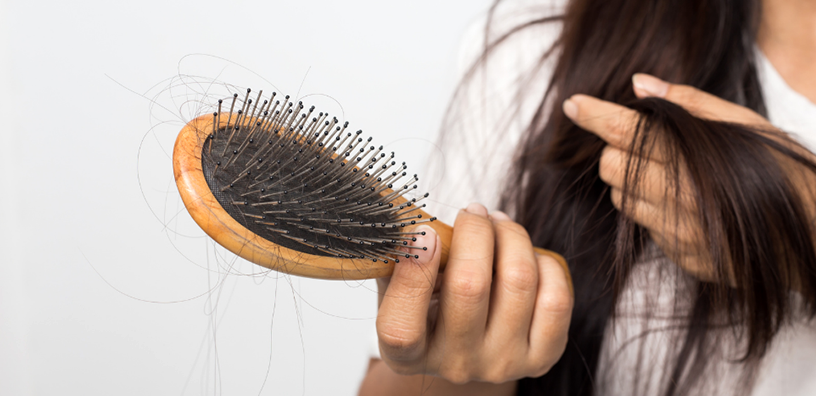 hair care
Can Argan Oil Help With Hair Loss?
By Staff Account Posted on
There are thousands of products on the market targeting those looking for a solution to their hair loss or thinning. However, many of these products are full of chemicals, and it can be extremely challenging to find something that works for you that is also natural. 
We're here to help. Argan is extremely powerful when it comes to hair care. The power is all in the ingredients. Argan is packed with vitamins, minerals, and antioxidants that help encourage health and hydration. While it is a miracle oil, what's the truth about argan oil for hair loss?
How Argan Oil Helps with Hair Loss
While argan oil cannot cure hair loss, it can definitely improve the condition of your existing hair and promote growth. Nourished hair and a healthy scalp can make your hair appear fuller and our Argan Oil can help you get your hair there.
Improves Scalp Health
While no research is available regarding argan oil specifically for hair loss, there are proven benefits for hair health, but it all starts with scalp health. Argan oil can improve the scalp environment, making it easier for the hair to grow. 
The anti-inflammatory and antioxidant properties of argan oil make it good for scalp health. These nutrients provide various benefits for the scalp including hydration, protection from everyday damage, and reducing breakage. They also can improve and, possibly prevent, common skin irritations and conditions that could affect the scalp and cause hair loss, such as dandruff, psoriasis, and seborrheic dermatitis. 
The minerals in argan oil (calcium, magnesium, zinc, iron, vitamin c, and vitamin b) penetrate the scalp, giving your roots the necessary nutrients they need. This promotes healthy hair, as well as hair growth. 
Strengthens Hair & Prevents Damage
Argan oil is rich in fatty acids, specifically linoleic and oleic, that hydrate the cuticle layer of hair, and add moisture to potentially dried out, damaged, and treated hair. They have also been shown to reduce split ends, which in turn, makes for thicker, healthier-looking hair. 
It is also packed with Vitamin E repairs the cortex layer. This nourishes and strengthens weakened and brittle hair, giving you a revitalized texture. Vitamin E's antioxidants boost cells, encouraging the production of healthy hair growth.  
Common Causes of Hair Loss
Did you know it is normal to shed between 50-100 hairs a day? However, if you're losing more hair than that, it may be time to figure out the issue and take action.
Both men and women experience hair loss and shedding for a variety of reasons. Each has a different cause and needs treating in a different way. Common causes of hair loss include:
Medical Conditions

Stress or Emotional Trauma

Shampoos or Hair Dyes Used Too Frequently

Harsh Treatment

Dietary Deficiency 

Hormonal Changes

Medication

Traction Hair Loss
You should always see a professional when deciding on a treatment, but there are some actions you can take to slow down and potentially stop hair loss. You should be sure to nourish your hair to prevent breakage, maintain a healthy scalp, and have a hair care regimen with stimulating vitamins and nutrients — like argan oil.
Ways to Use Argan Oil to Get Healthy Hair
Our Argan Oil is 100% pure, super easy oil to work with, and can be used in a variety of ways for hair care. It is important to use 100% pure argan oil to get the best experience and most benefits.
Argan Oil Hair Mask 
What it does for your hair: Nourishes and rejuvenates your hair
Saturate your hair with argan oil from roots to ends. Hair should be generously coated, but not dripping with oil.

Wrap coated hair in a towel. This ensures oil doesn't get on your clothing or belongings and makes sure the oil can soak into the hair.

Leave argan oil in hair for 15 to 30 minutes, or overnight.

Shampoo and condition as usual.

Repeat this process one or two times a week.
Argan Oil Shampoo 
What it does for your hair: Moisturizes, protects hair from damaging heat and chemicals
Combine your normal amount of shampoo with one to two drops of argan oil in the palm of your hands.

Rub hands together until mixed thoroughly.

Wash and rinse hair as usual.

Repeat every two or three days.
Argan Oil Leave-In Conditioner
What it does for your hair: Repairs damage for more manageable hair
Warm one drop of oil in the palm of your hands.

Comb it through your hair with your fingers.

Add one drop to your fingertips and massage it into your scalp.
Argan Oil Serum
What it does for your hair: Protects hair from heat and humidity, tames frizziness, and adds extra bounce
Warm one to two drops of oil in the palm of your hands.

Comb it through wet hair with your fingers.

Blow-dry hair as usual.

Once hair is dry, put one drop in your hands and comb through hair with fingers to tame frizz.
Where to Buy Argan Oil for Hair?
Just because there's "argan oil" on the label, doesn't mean that it's good quality or high potency. Many hair care companies lead you to believe that you're buying pure argan oil when in reality their product is filled with silicones, water, and preservatives. 
Beauty doesn't need to be complex or overwhelming, so you won't find any fillers here. We sell 100% pure Moroccan Argan Oil, sourced ethically and responsibly from Morocco. Argan Cosmetics is the leader in providing consumers with affordable Argan oil without compromising quality.  
Our argan oil is an incredible tool for maintaining strong, soft, healthy hair. If you're looking to pick up your own bottle, you can check out our argan oil here!
Share this